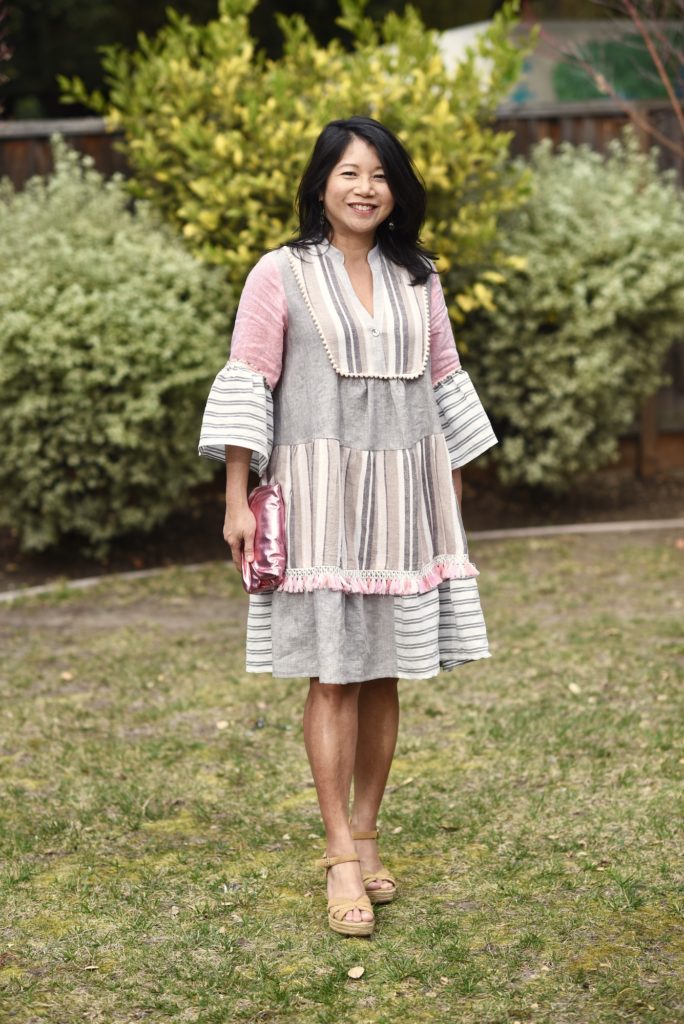 Bernice sews like a true Bay Area resident: plenty of layerable separates and easy breezy dresses, all of which have an elevated casual feel. Her Instagram feed is filled with a great variety of prints, solids, bright colors, and neutrals.
You can tell Bernice really considers her wardrobe and how a piece will fit into it. You'll find a mix of silhouettes in her closet, as well as fabrics, whether it knits or wovens, silk, rayon, or cotton. You name it, she's sewn it!
Since Bernice is one of our local Sewists, she was able to come by and shop with us in person and find the best fabrics to execute her plan. It was such a treat to have her here in person!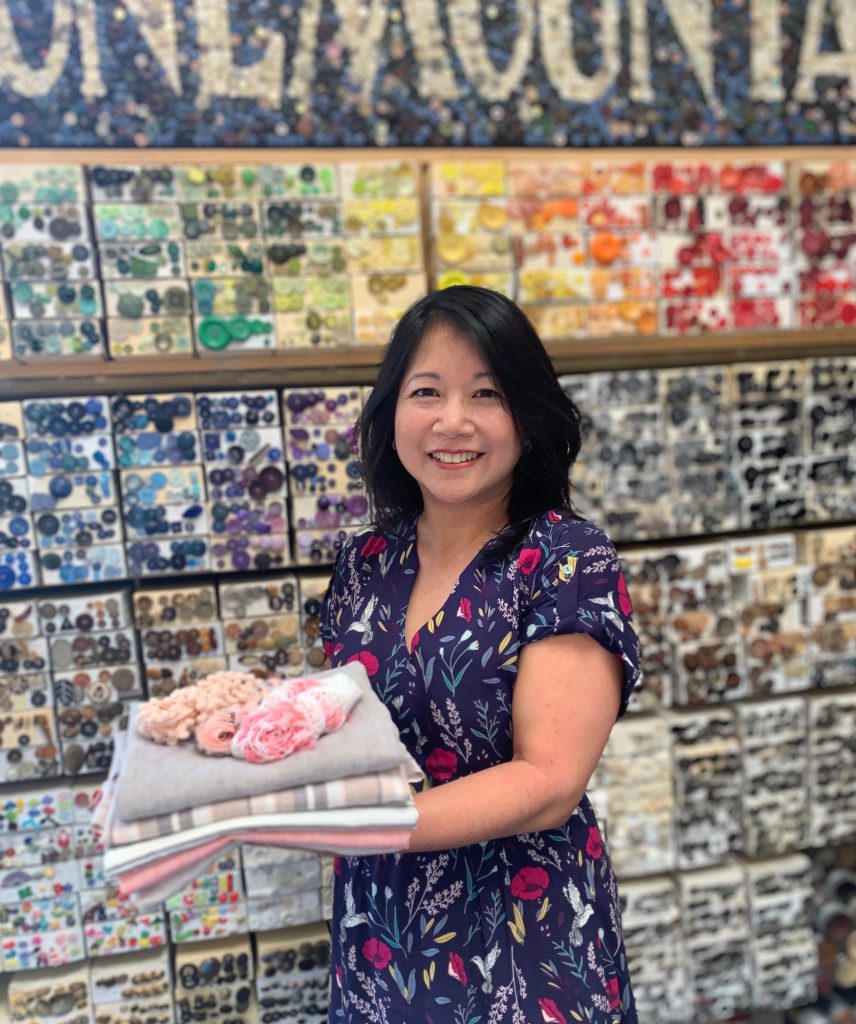 Why did you choose this fabric?
I was browsing for dresses on the Anthropologie website and came across some inspiration dresses that have since sold out. The colorway I was drawn to most had several different stripe fabrics and incorporated ric rac and pom pom trims (below, left). I had this dress on my mind when I went into Stonemountain & Daughter earlier this month and was thrilled to see several stripe linens in store. I pulled several linens together and asked for Catherine's help in making sure the 5 fabrics coordinated. Catherine then walked me to the trim section and found 3 trims that worked with the set of 5 fabrics chosen. I wasn't sure if the dress I was inspired by was made with linen or not but I love sewing with linen and linen blends and wearing it as it has such beautiful drape.
Images taken from Anthropologie.com
The 5 fabrics I used are:
1. Bodice Yoke and 2nd tier: Summer Stripe Multi Rayon/Linen – Blush/Taupe
2. Sleeves and 3rd tier: Birch Fabrics – Organic Yarn Dyed Linen – Dusty Rose
3. Lower Bodice and 3rd tier: Romsey Linen – Ash
4. Lower sleeve and 3rd tier: Rayon Linen Stripe – Grey/White
5. Bodice opening bands and collar: Umbria Linen Check – Taupe (Currently sold out)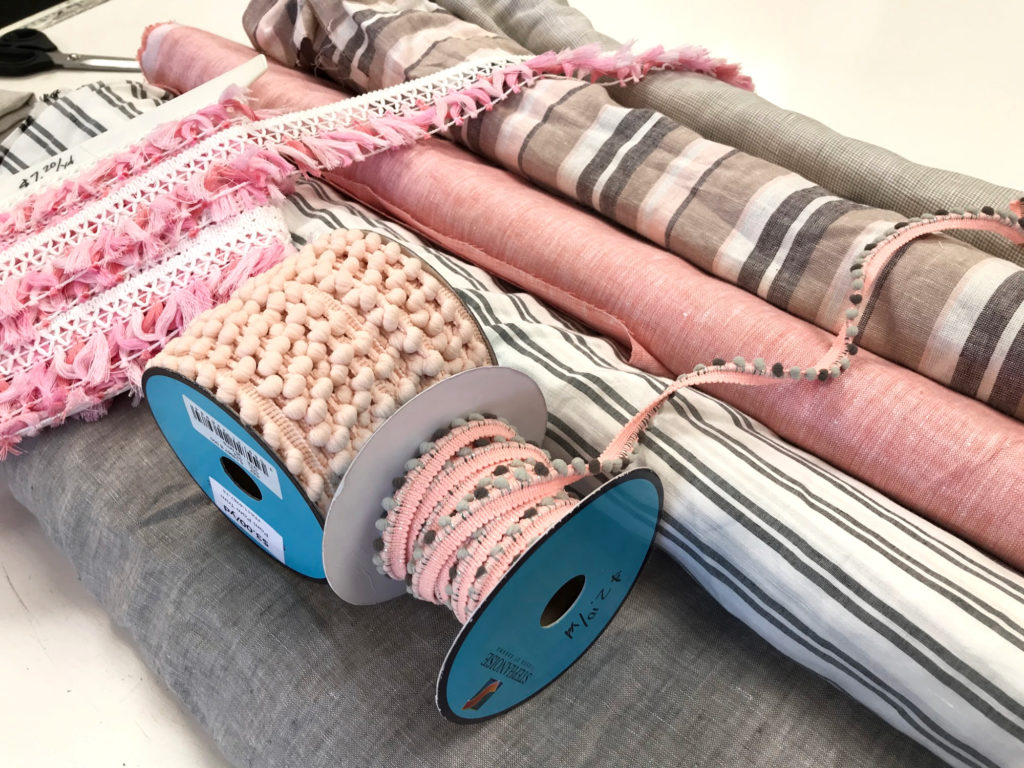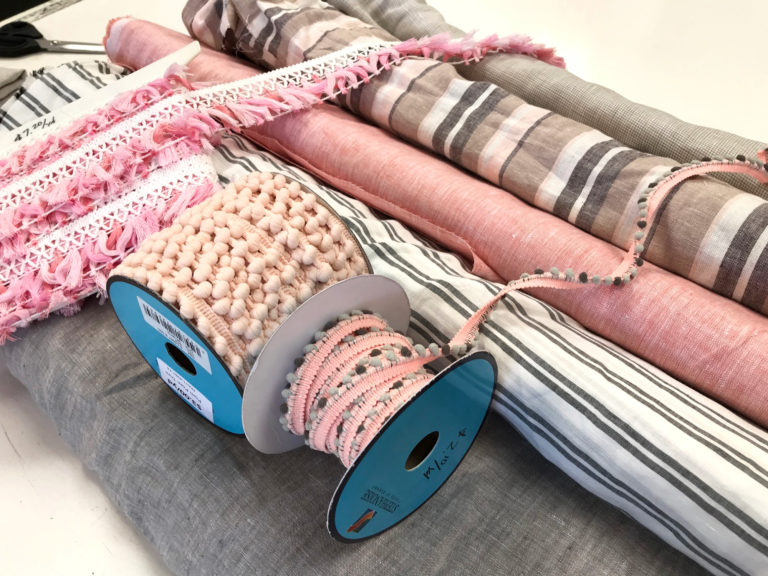 What do you especially like about the fabric?
Two of the five fabrics I chose are linen/rayon blends. I love that fiber mix because the fabric is less likely to wrinkle. Three of the five fabrics I chose are 100% linen and I feel this substrate is one of the easiest to sew because necklines ease into place easily and sleeves aren't tricky to set in. Once I started sewing with my 5 fabrics I found I had somewhat of a hard time sewing with the linen/rayon stripe fabric I used for the lower sleeve and 3rd tier. When gathering this fabric, the gathers would pucker rather than lay flat along the 2 lines of gathering stitches and I would have to maneuver the gathers under the sewing machine presser foot. As you can see in the finished dress photos, the lower sleeve tiers look very stiff and stand out in a lamp shade shape. I may shorten that tier or hope that it softens with wear. In contrast, the grey 100% linen I used for part of the 3rd tier and the main stripe linen/rayon I used for the 2nd tier and bodice yoke were a joy to gather as it gathered evenly and laid flat against the fabric being joined with.
How did you pre-treat/launder the fabric?
I had read a tip to on Stonemountain & Daughter Fabrics' website on how to best pre-treat linen. I ironed my fabrics on the highest setting on my iron, prewashed in hot water and dried in my dryer. When the fabric came out of the dryer, the middle of the yardage had beautiful soft wrinkles. There were some hard wrinkles near the selvedge that I ironed out before cutting my pattern pieces.
What pattern did you make?
I had made view A of the Deer and Doe Myosotis Dress last year and love it. My inspiration dress was similar to this pattern with the addition of a front bib-yoke, a back yoke, lengthened sleeves and adjustments to the length of the two skirt tiers.
What size did you make?
I made size 36.
Did you make any modifications?
Yes, I made several modifications to match my inspiration dress. As I was altering my pattern pieces, I remembered I have a dress that is very similar to the shape of my inspiration dress so I measured that dress to approximate changes to the Deer and Doe Myosotis Dress. These are the modifications I made:
1. Decided not to sew any of the darts.
2. Added a front bib yoke; the remaining front bodice piece I'll call lower front bodice.
3. Lengthened the lower front bodice by 3″. Extended the lower front bodice at center front by 1.5″ to add gathers under the front bib yoke. Cut the lower front bodice on the fold.
4. Added a back yoke; the remaining back bodice piece I'll call lower back bodice.
5. Lengthened the lower back bodice by 3″. Extended the lower back bodice at center back by 2″ to add gathers under the back yoke at center back.
6. Extended the sleeve at the lengthen/shorten line by 3″.
7. Shortened the 2nd skirt tier by 4″.
8. Divided the 3rd skirt tier in half to use two fabrics.
I made a muslin in beige 100% linen that I had in stash after my initial changes. (I've included some pictures of this muslin.) The changes I made between this muslin and final garment are to reduce the sleeve length from 6″ to 3″, shorten the yoke by 3/4″, widen the yoke by 3/4″, reduce the extension of the lower front bodice to 1.5″ from 3″, and make a narrow shoulder adjustment of 1/2″.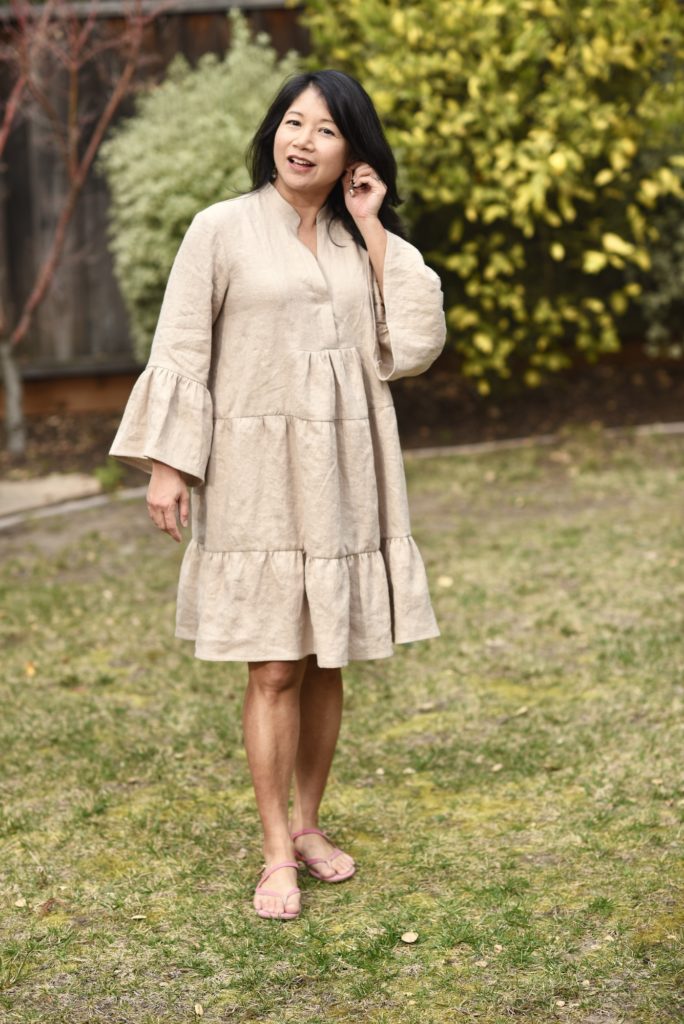 Did you use any special notions or tools for your project?
The three trims I used were so special! The one at the bib front yoke is a pom pom trim. The second trim on the sleeve is a multi color, metallic pom pom trim. The last trim I used between the 2nd and 3rd skirt tiers is a tassel trim. I used a zipper foot to apply these trims.
Is this garment your typical style? How will it fit into your wardrobe?
I love to wear dresses and this Myosotis Dress hack is just my style! I plan to wear this dress everywhere through spring and summer! This style of dress isn't my husband's favorite as he calls any dress that is loose fitting and not-waist defining as a tent. However, tents are my best friend when going out to eat!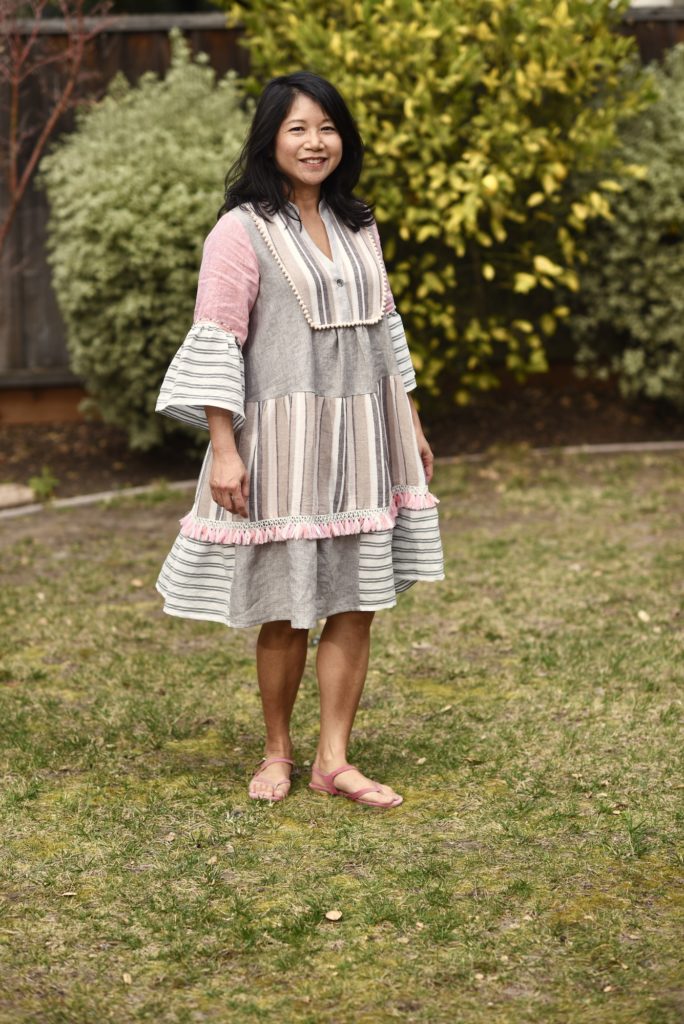 What else would you like to share about your project?
Stonemountain & Daughter Fabrics is located in a special place for me: Berkeley. I went to UC Berkeley many, many years ago and lived about a 10 minute walk from the store but I didn't sew at that time. I started sewing after I graduated, started my first job and needed to hem all the pants I bought for work. After that first alterations bill, I bought a sewing machine and did my own hemming, and then started sewing garments for my nephews and nieces and eventually for myself and then my husband and kids. I have so many great memories in Berkeley! I live about a 45 minute drive away and do enjoy going to shop at Stonemountain. I am thrilled to be a Stonemountain Sewist and to share my make with you.
We love that Bernice has come full circle back to her Berkeley roots! Thank you, Bernice, for being a Stonemountain Sewist and sharing this inspiring make with us.