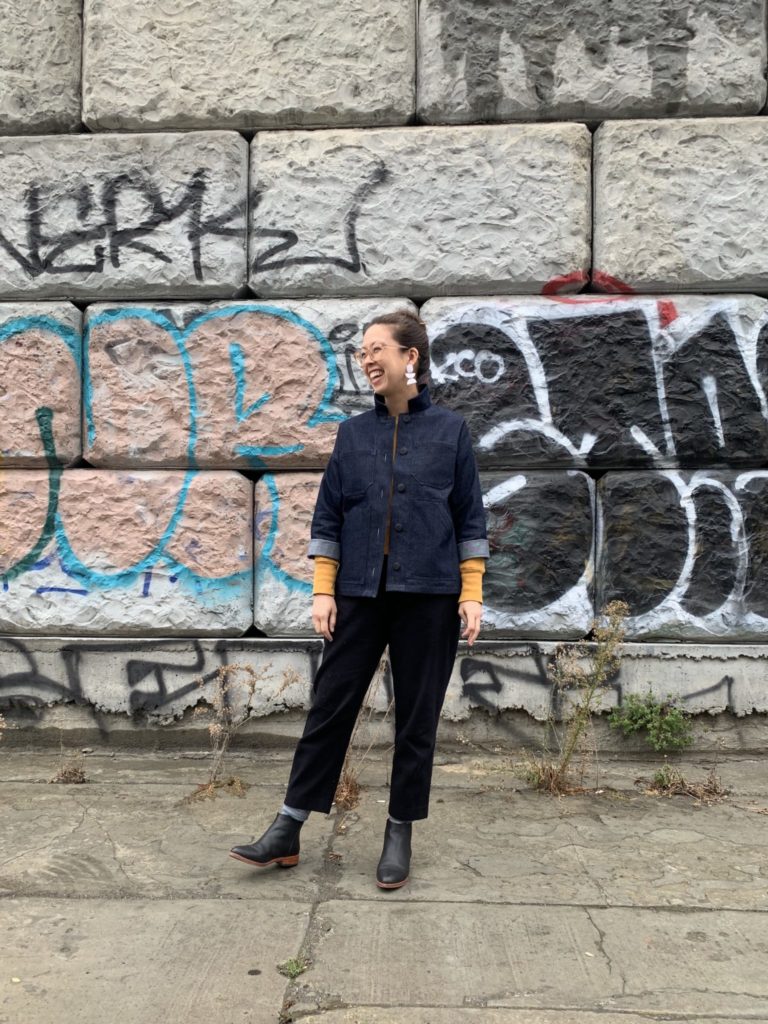 Not only do we love Lindsay's style, which is effortlessly chic, but we also always love her fabric choices! Lindsay is local, so we often see her at the shop with a stack of our favorites waiting to be cut. She generally goes for solids in beautiful natural fibers like silk, linen, and cotton, and she's always able to find some gems in our upstairs discount section.
For her Stonemountain Sewists project Lindsay wanted to make something she could wear all the time, in all seasons (or at least all Bay Area seasons!), so she went with the classic combo of a jean jacket and cozy sweatshirt in our 12oz Indigo Denim and Bamboo/Cotton Fleece.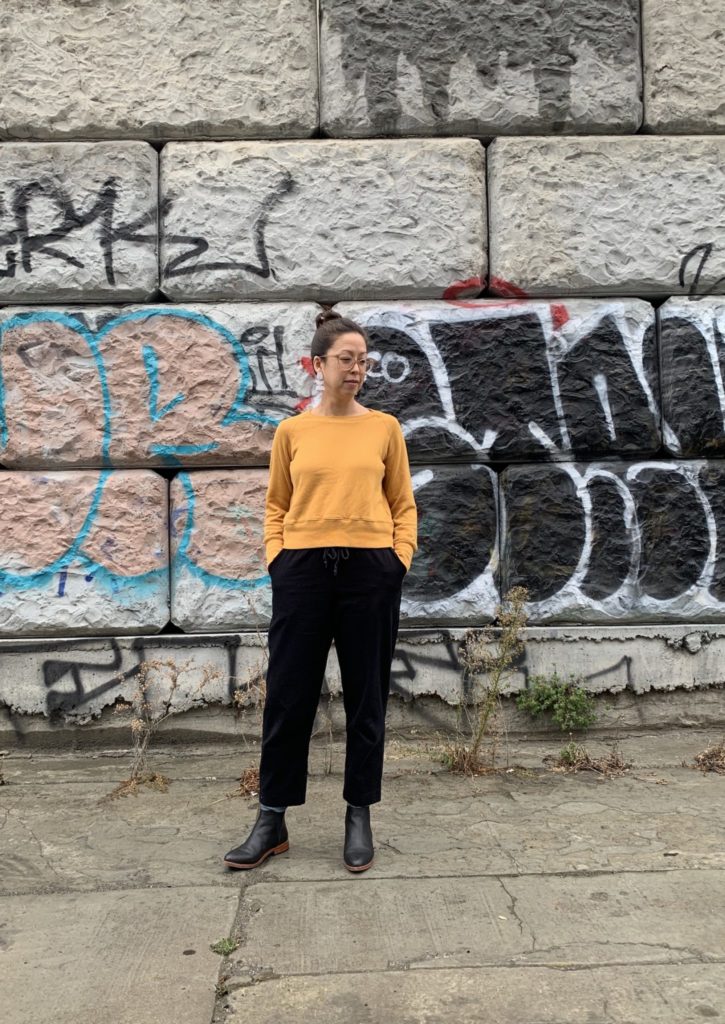 Why did you choose this fabric?
The Bamboo/Cotton Fleece is just the thing for a cozy jumper. Plus it has matching ribbing for a professional finish and comes in a rainbow of colors. I couldn't resist the saffron yellow to brighten up these gray winter days. I picked the 12oz Indigo Denim for its classic style, structure, and durability. I was looking for a jacket that would fit into my wardrobe easily and be versatile across seasons.
What do you especially like about the fabric?
The Bamboo/Cotton Fleece is sooooo soft. Is there a life where all my clothes can be made of this fabric? If so, sign me up. Plus it's Oeko-Tex Certified, so I can enjoy the cozy without worrying about harmful chemicals for me or the planet. I love the timelessness of denim. This one washed up without any streaking and was easy to cut and sew.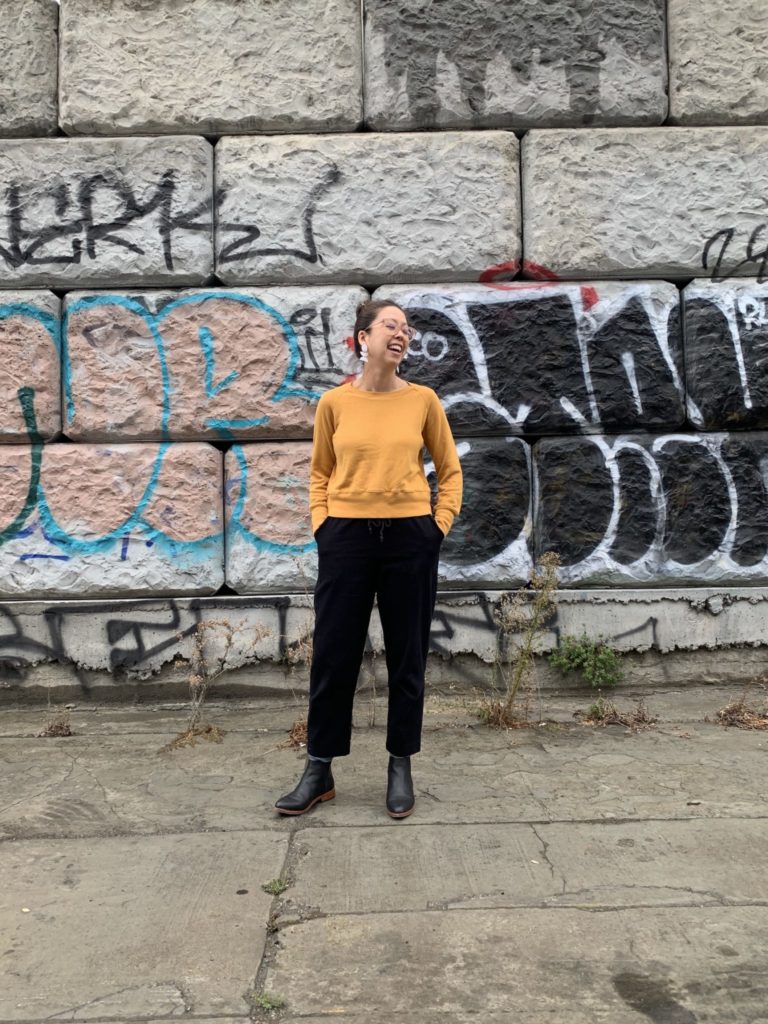 How did you pre-treat/launder the fabric?
I washed them separately in cold washes, tumble dry medium, just like I'll wash the finished items.
What pattern did you make?
I made the Cedar Sweater by SewNorth in the Raglan View and the Ilford Jacket by Friday Pattern Company in the shorter length with the boxy sleeve.
Note: The Ilford Jacket is not in print just yet, but will be in stock soon! The Cedar Sweater is PDF-only.
What size did you make?
I sewed up the Size 0 in the Cedar Sweater and the XS in the Ilford Jacket. For reference, I'm 5' 3" with 32" bust, 28" waist, and 38" hip. I picked my sizes based on my bust measurement, which worked great.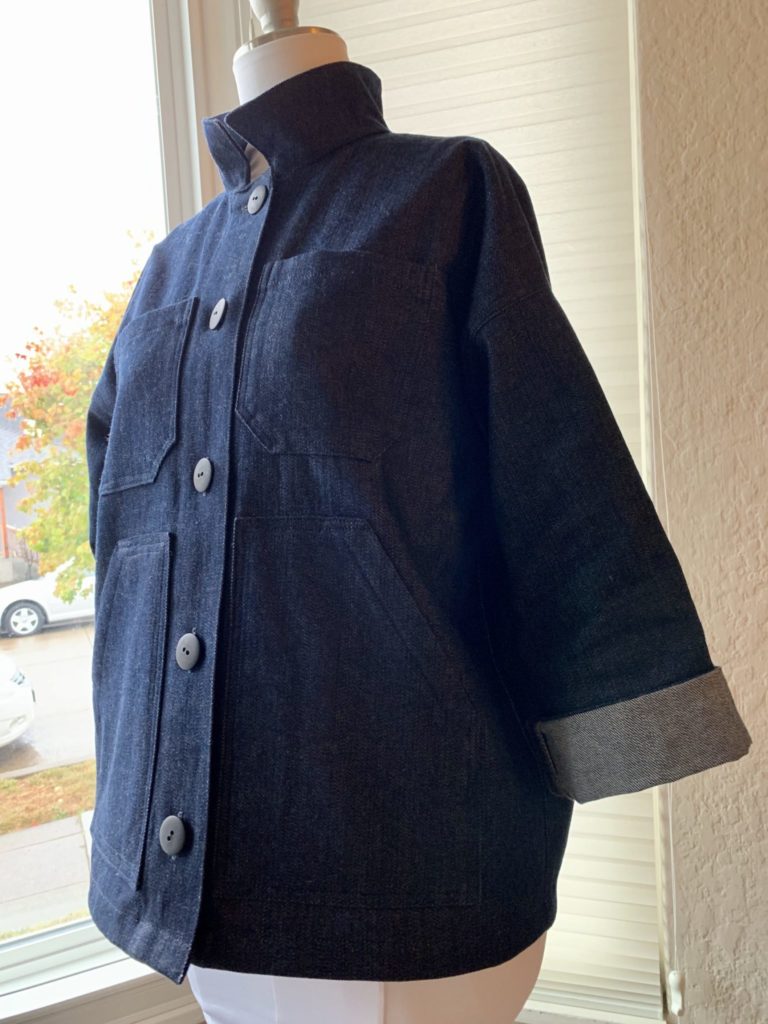 Did you make any modifications?
My favorite modification was lining the bottom pockets on the Ilford Jacket with some of my leftover bamboo/cotton fleece. I used the "wrong" (fuzzy) side of the fabric on the inside to make the coziest hand warmer pockets. I also shortened the sleeves on both patterns by about two inches. On the Cedar Sweater, I cut off some of the sleeve length before adding the ribbed cuff. On the Ilford Jacket, I just made a deeper hem on the sleeve. I guess I'm a bit of a T-Rex.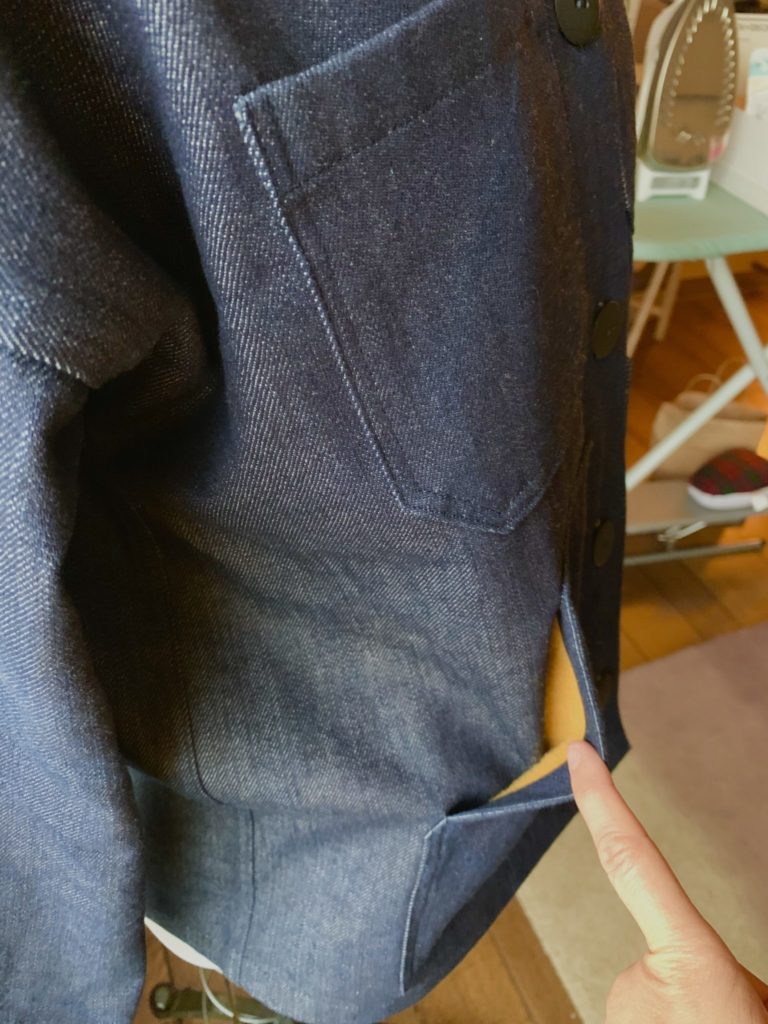 Did you use any special notions or tools for your project?
Wonder Clips were a huge help when attaching the ribbing on the Cedar Sweater and Wonder Tape (no relation) made the flat-felled seams on the Ilford Jacket a breeze. Pins were not going to cut it on that 12 oz. denim! I was also grateful for my edge-stitch foot for quick and accurate topstitching.
Is this garment your typical style? How will it fit into your wardrobe?
Yes x 1000! I favor classic shapes, bold colors, and a gender-neutral vibe. I've been saving chore coats on Instagram for months, so I'm delighted to finally have one in my closet. I've worn the Ilford Jacket nearly every day since I made it. It's the right weight for Bay Area "winter" and works well on my bike commute and in the office. The Cedar Sweater is a little more casual, the perfect thing for weekends or Fridays at work. The cropped length is really flattering. Bonus that they layer together and go with everything else in my closet!
What else would you like to share about your project?
I am so lucky to have Stonemountain as my local fabric shop. Browsing the shelves is a massive source of inspiration and this trip was no exception. I loved sewing these projects and couldn't have asked for better fabrics. Thank you!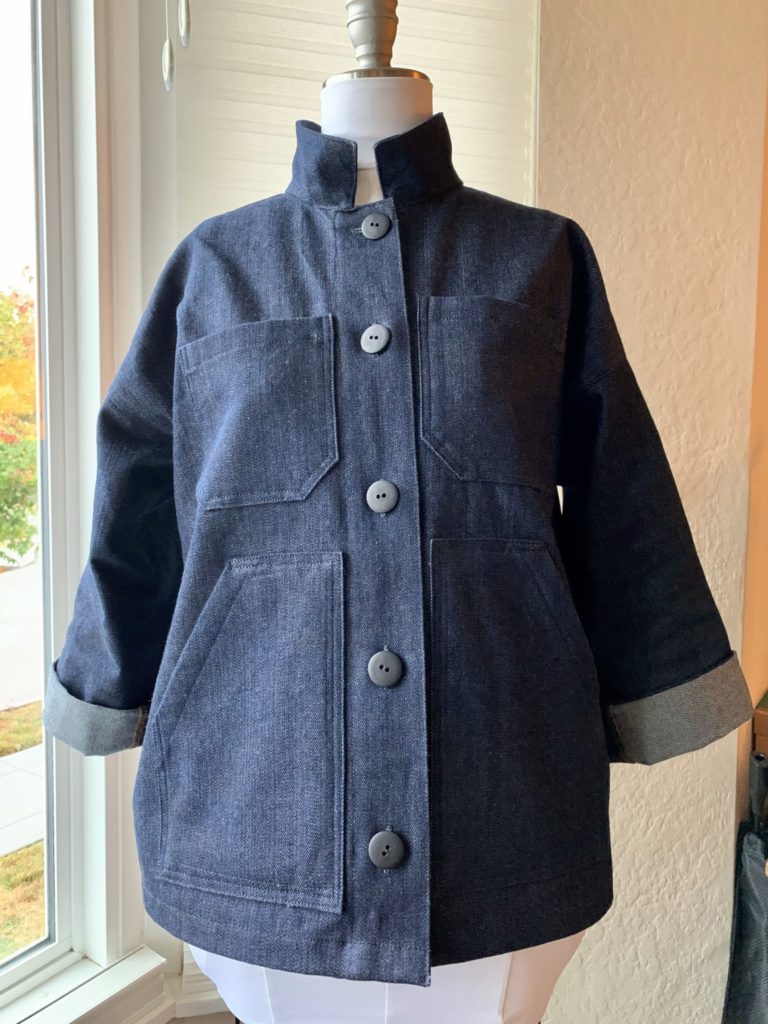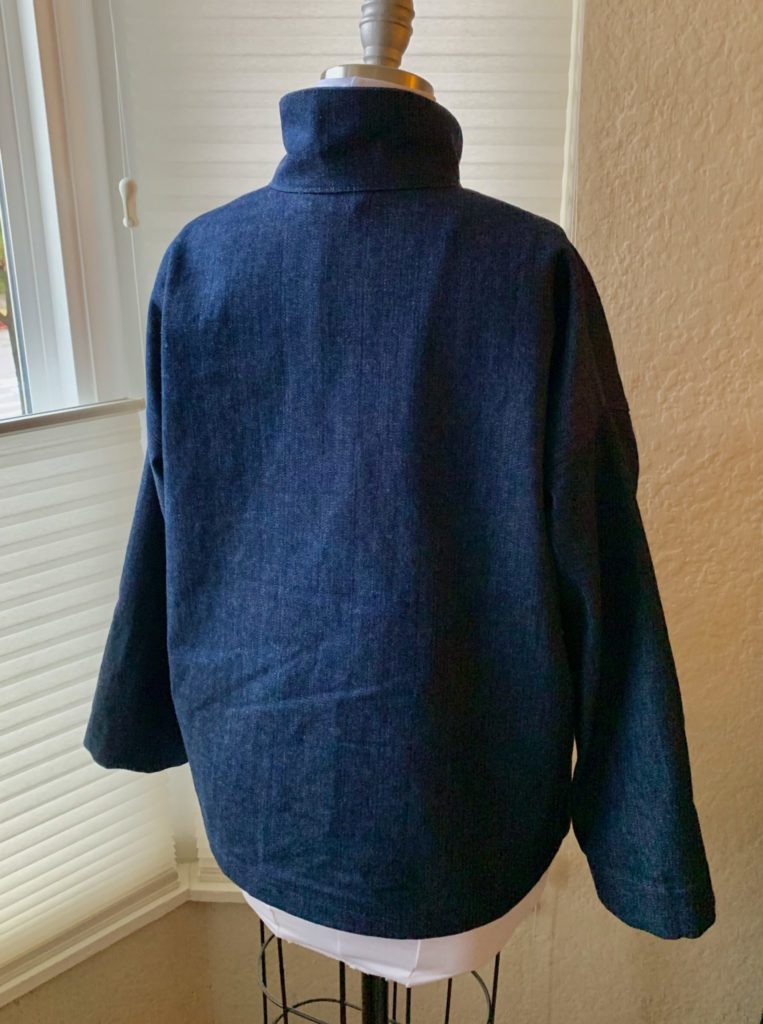 These two garments are perfect together, but they're wardrobe staples on their own as well. This is the second Stonemountain Sewist take on a denim jacket (read about Sienna's Sienna Maker Jacket here) AND the second Sewist version of a Bamboo/Cotton Fleece sweatshirt (we showed you Meg's last week). Are you convinced that you need either of these garments in your me-made wardrobe yet?!
Lindsay, thank you so much for joining in and for being such a great part of our local sewing community.
If you want to see more of Lindsay's beautiful sewing (and knitting!) projects, you should absolutely check out her Instagram.