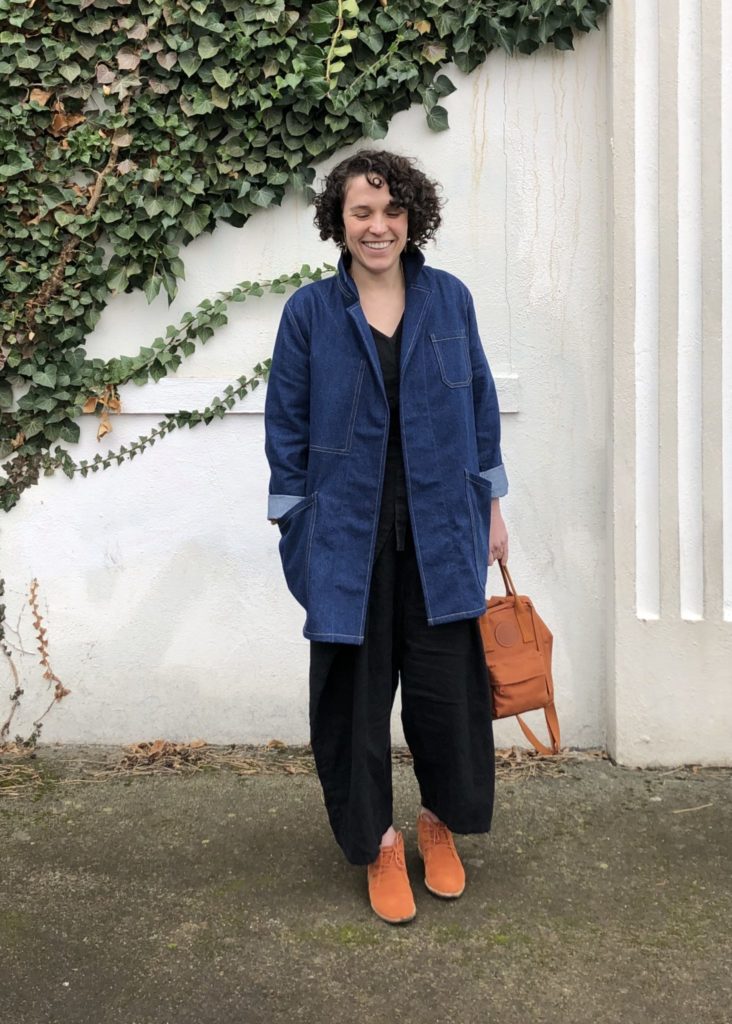 We were thrilled when we saw that the latest pattern from Closet Case Patterns was named after Sienna, one of our favorite makers and a former local customer. And we were doubly thrilled when she decided to make the namesake jacket for her Stonemountain Sewist project!
Sienna is inspiring not only for her keen aesthetic sense, but also for her willingness to try new things and tackle tricky projects. She quilts, block prints, and has an enviable sketchbook practice. It's pretty evident why the Maker Jacket was named after her—Sienna is a Maker, through and through.
The jacket she made is an instant classic, definitely due in part to her fabric choice. The 10oz Denim in Indigo is the ideal denim blue in a nicely heavy but not overly structured weight. And of course Sienna chose the perfect golden topstitching thread. This jacket is going to be timeless!
Why did you choose this fabric?
I chose the 10oz Denim in Indigo. I wanted a somewhat hefty denim that my home sewing machine could handle and would also look really good with that classic gold topstitching thread.
What do you especially like about the fabric?
You can't go wrong with an indigo denim. I know it's going to age beautifully and the weight is perfect for a jacket.
How did you pre-treat/launder the fabric?
I always prewash my fabrics in the method I intend to launder the finish garment, which is a warm wash and a hot dry.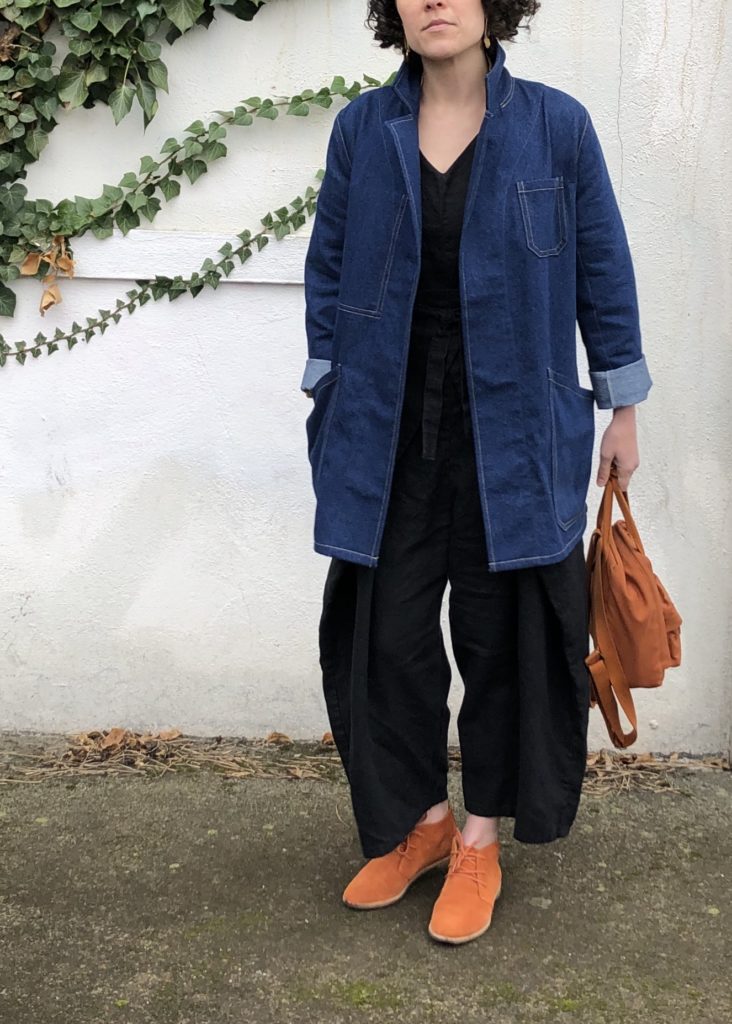 What pattern did you make?
I made the Sienna Maker Jacket by Closet Case Patterns! It's surreal to make a pattern named after you, especially when it's the garment of your Pinterest dreams!
What size did you make?
I made a straight size 8 based on my bust measurement. When I make it again I might size down to a 6, or figure out how to do a narrow shoulder adjustment. I do like that this size has enough ease for me to wear a bulky sweater underneath. I have two other Stonemountain fabrics laundered and ready to go – a natural bull denim (view C) and a beige canvas (view A or B).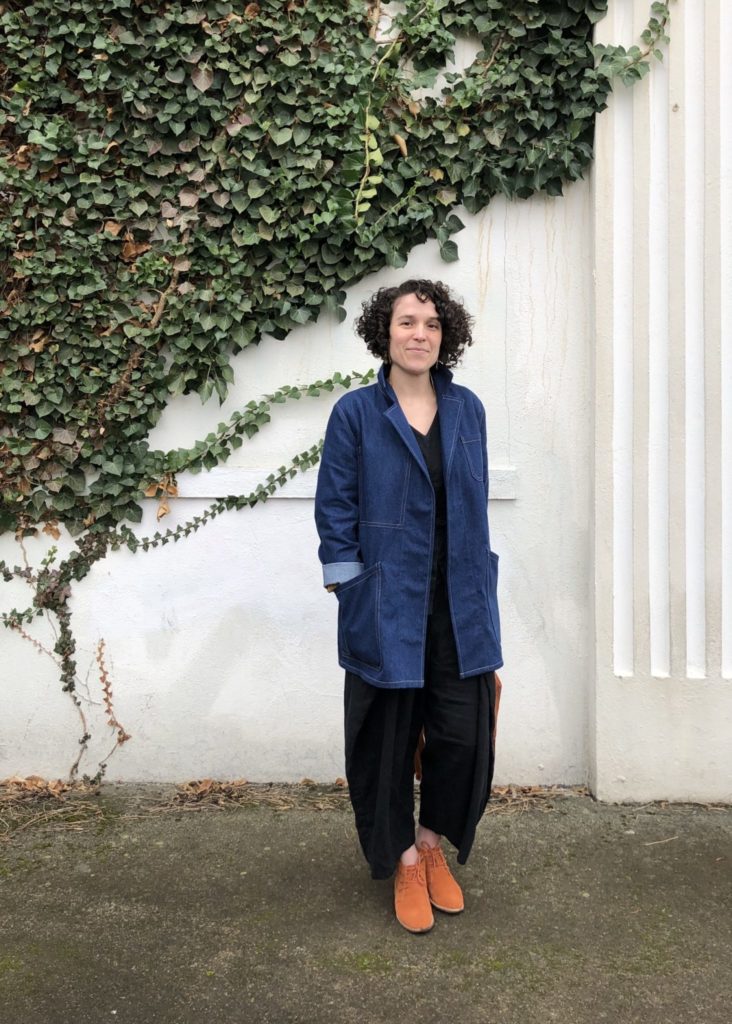 Did you make any modifications?
I opted to leave the belt off. I have been dreaming of a longish denim chore jacket for ages and I really like the boxy silhouette of view B sans belt. I'm planning to wear it for a while before I decide if it needs buttons.
Did you use any special notions or tools for your project?
This was my first project using a tailor's clapper / point press that I borrowed from work and holy cow does it make a difference. It made pressing the collar points so easy – I think these are the sharpest points I've ever sewn.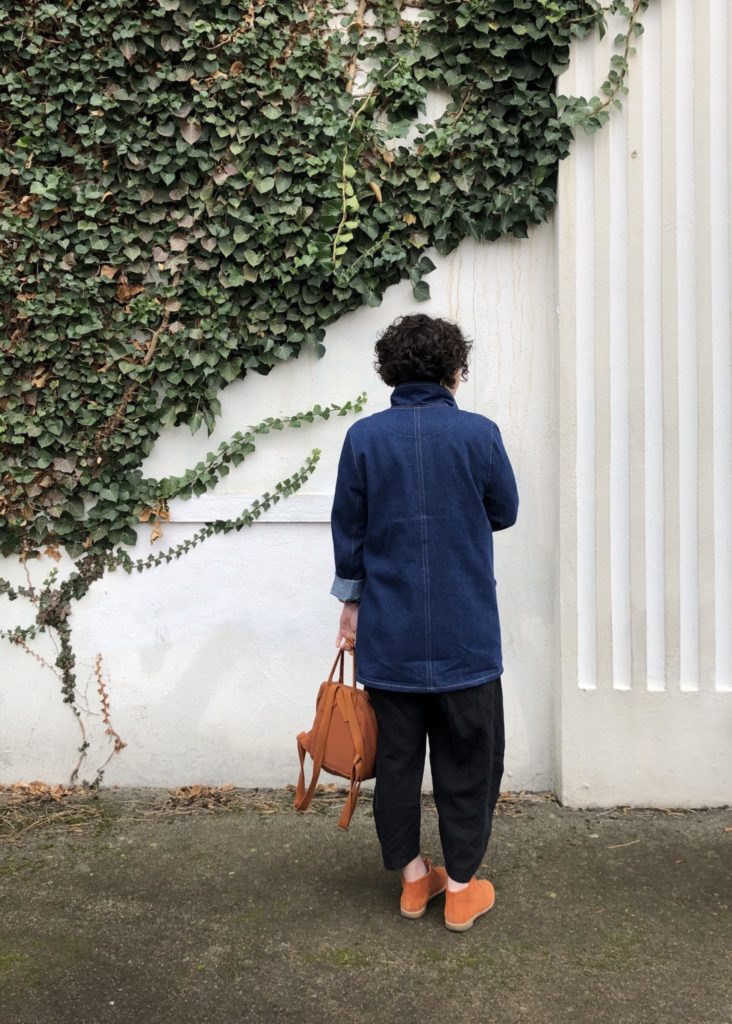 Is this garment your typical style? How will it fit into your wardrobe?
Totally – I'm wearing it right now! It's a versatile garment that's not just outerwear. Yes, it's a great layering piece for jaunts outside, but I can also see myself wearing it in my sewing space because POCKETS. It would also be a great smock in the pottery studio.
What else would you like to share about your project?
As a self-taught sewist, I had always considered denim a challenging fabric to sew and I couldn't have been more wrong. It's so easy to work with and topstitching it is such a treat.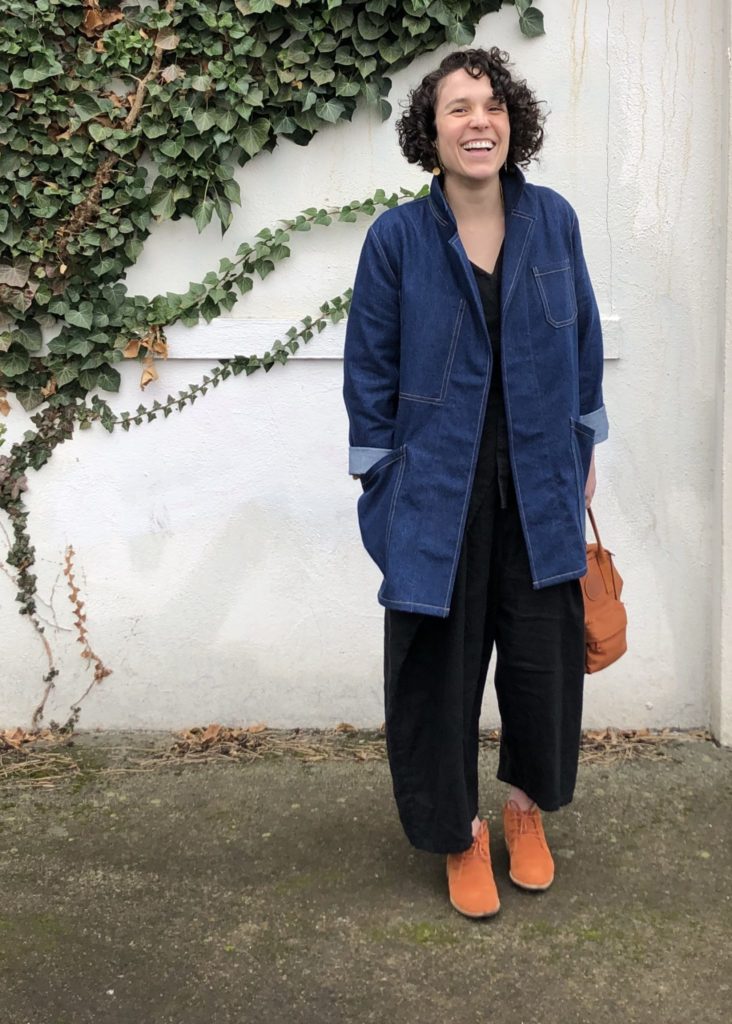 We can't help but notice that Sienna has her hand in her pocket in all of these photos—but who can blame her? This jacket is incredible and those massive pockets are perfect for shoving your hands into or toting around your phone, keys, wallet, craft projects, and maybe a snack or two.
If you don't follow Sienna on Instagram or read her blog, you are missing out! Oh and Sienna, the Bay Area misses you but we're so excited to see all that you create in Portland 🙂