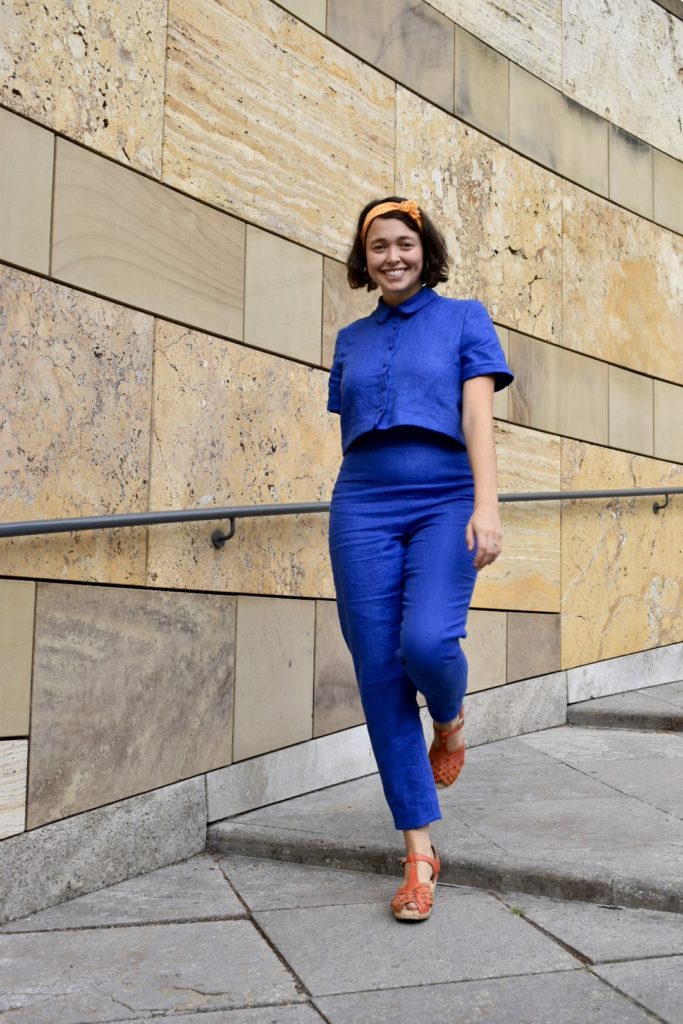 We appreciate someone with a bold sense of style and a love of jumpsuits, so we are very excited to have Isabella as one of our Stonemountain Sewists. Isabella is never one to shy away from bright colors, and this project is no exception!
A funny story: Isabella splits her time between her home state of California and her adopted home of Germany. When we emailed her about participating in our Stonemountain Sewists project, she was getting ready to jet back to Europe the next day! She rushed over to the store so she could get her fabric ASAP—now that's some well-placed priorities 😉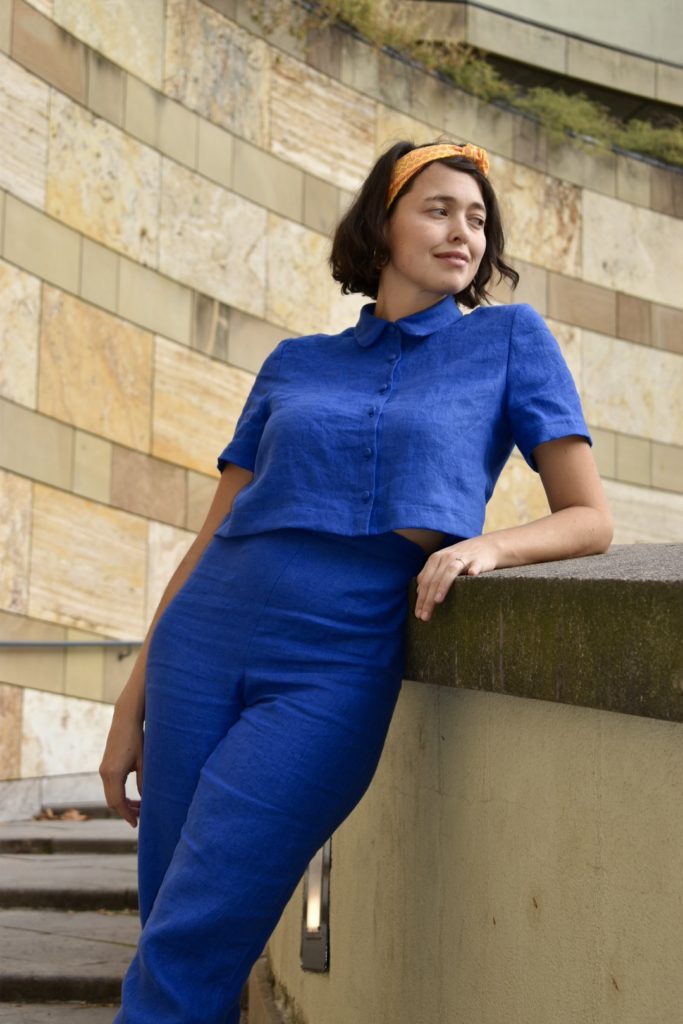 Isabella chose one of our absolute favorite fabrics, Nevada Linen. And of course she picked one of the most unique and vibrant colors, Electric Blue! We have dozens of colors of Nevada Linen, ranging from subdued neutrals to vivid colors, so there's something for everybody.
Why did you choose this fabric?
I have been itching to get my hands on the Nevada linen for some time now. I love working with and wearing linen, and this linen is especially luscious…and the colors are just to die for!
What do you especially like about the fabric?
It's the perfect medium weight linen. I love the vivid color, which I am very pleased to say did not fade in the wash!
How did you pre-treat/launder the fabric?
I just washed it on cold with my normal laundry detergent and dried it in the dryer.
Isabella chose to wash her Nevada Linen differently, but we do have a recommended method for 100% linen that results in a soft, crease-free finish:


1. Before pre-washing, dry iron your linen with the hottest setting possible.
2. Using the hottest settings, machine wash and dry the fabric.
3. Remove the fabric when completely dry and enjoy your perfectly rumpled, crease-free linen!

Once you've sewn up your garment, machine wash cold and tumble dry to preserve color and longevity of the fabric. Steam iron on high heat when needed.
What pattern did you make?
I used Mimi G for Simplicity 8889 for the top and New Look 6544 for the pants.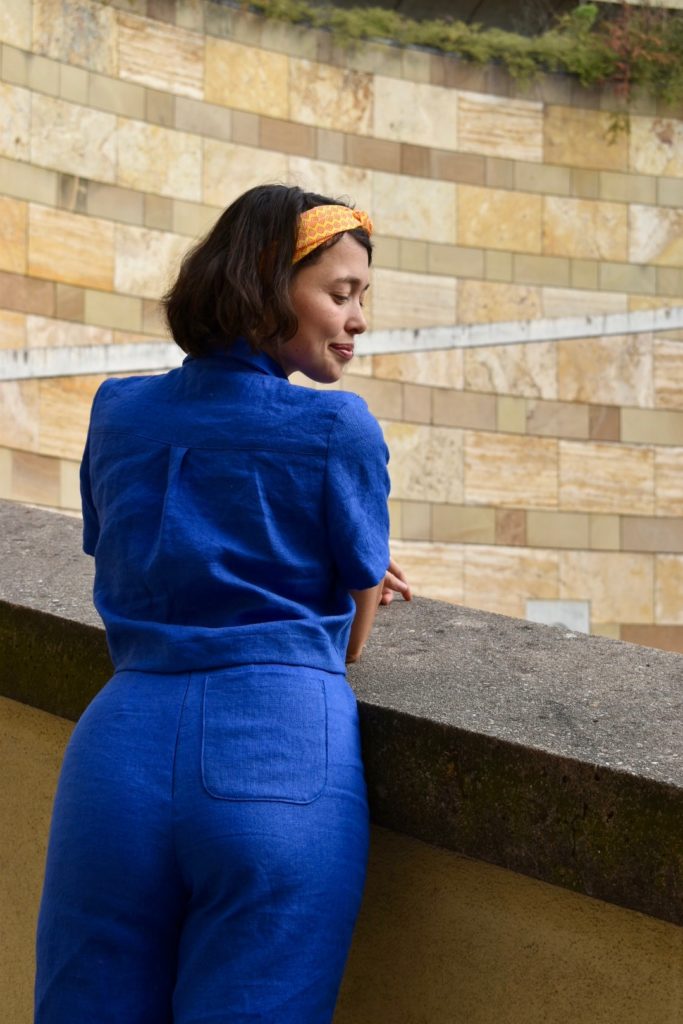 What size did you make?
Size 12 for both the top and the bottoms.
Did you make any modifications?
I altered the top by evening out the front and back bodice patterns and omitting the side slit. For the pants I added 2″ to the rise and tapered the legs in another inch at the ankles.
Did you use any special notions or tools for your project?
I used self-covered buttons for an extra matchy-matchy touch.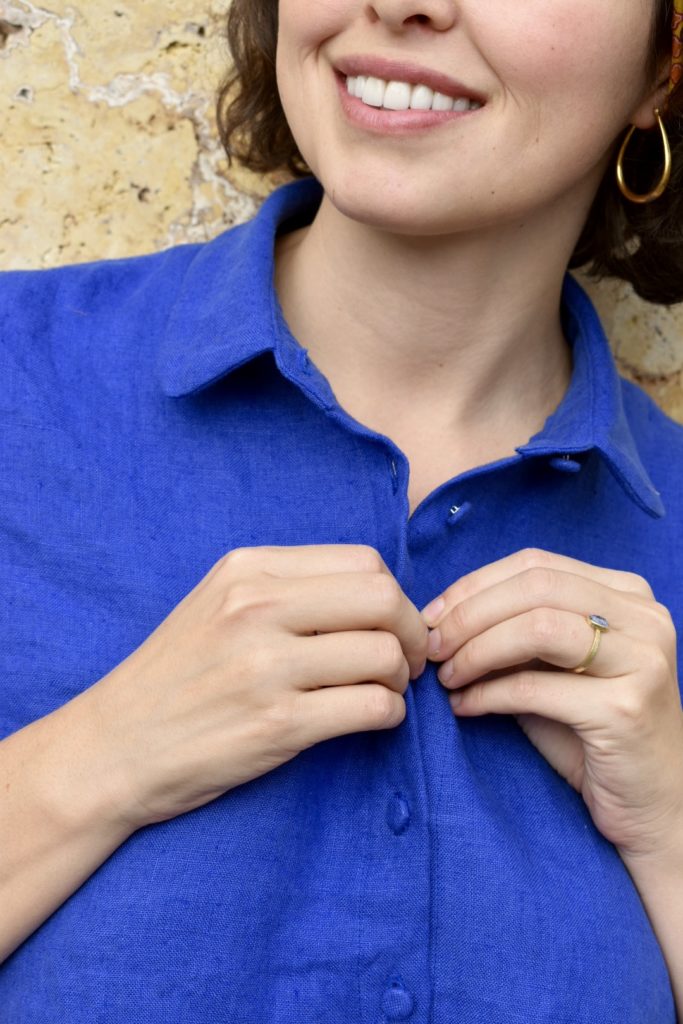 Is this garment your typical style? How will it fit into your wardrobe?
My typical style is a jumpsuit. This outfit, being completely monochrome, gives the illusion that it's one piece like a jumpsuit, but with the great advantage of being able to mix and match both the bottoms and the top with other pieces. I love wearing bold colors and eye-catching fabric, so I think this outfit will get a lot of wear styled as it is here. The top will also look great with a pair of jeans or worn underneath my beloved pair of overalls.
---
There's something about a two piece set that looks very ready-to-wear, don't you think? In fact, Isabella used an image from the designer Samantha Pleet as her inspiration. Such a spot-on interpretation!
Be sure to check out Isabella on Instagram to see more amazing two-piece sets and—of course—jumpsuits!